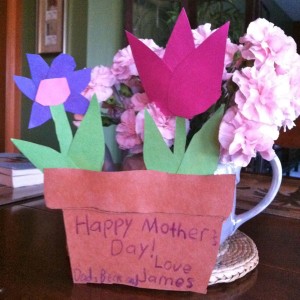 On Mother's Day, James asked me why there is no Kid's Day.
"Because Kid's Day is everyday," I said. James wasn't quite satisfied with that answer, but I reminded him of all the fun things kids get to do like play with GoGo's, chase the dog, and eat cookies, while moms have to clean, cook dinner, shop for groceries, work, drive around town, etc. He got the picture and begged me to stop.
I don't want to sound ungrateful because I love my family and all that they did for me on Mother's Day: breakfast, cards, gifts, time alone, and time together. Last Sunday was kind of like my birthday. However, the gerbil wheel began to spin. Why is Mother's Day celebrated only once a year? What does being a mother really mean? How do we define mother?
Is a mother as complex as a puzzle, or as simple as a bouncy ball? Is she an elegant rose, or the gorilla glue that keeps family together? Is she a delicious, frosted cookie, or a savory nut? Perhaps she is some of one and a bit of another. A mother is many things; mysterious, and ever present. She is often discussed, yet rarely given her due. So here's my take on what a Mom is.
A mother is…
A mother is someone who is pure of heart; loving, yet firm; playful and decisive –
Who dries tears, chases monsters, and mends booboos.
Who is soft around the middle where a child can bury his head and know that he's home.
Who bakes chocolate chip cookies and always shares the batter.
Who reads tales of adventure to her curious and imaginative child.
Who is never too busy to listen to a story, or a joke.
Who tends to laugh a little too loud at the silly parts, often punctuated with a snort.
Who operates with three sets of eyes to see around emotional walls and through closed
doors.
Who rules her kingdom with a firm, but just hand.
Who always forgives, but never forgets.
Who is generous with hugs and kisses.
Who understands with a single look and without a sound.
Who tries and fails, but always learns from her mistakes, and will tell you so.
Who protects her angels like a warrior.
Who is willing to go to hell and back for just one more moment with her child.
Who remains calm and cool until the storm of worry passes.
Who leads the way through gloom with a radiance that melts the heaviest of heart.
What do you think?
Got anything more to add? Connect with me on Facebook or leave a comment on my website or send me an email.