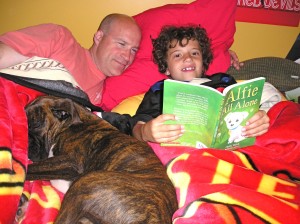 A library is…
A place of learning
A place to read
A place to hear stories
A place that inspires
A place to get some work done
A place to escape
A place to explore books
A place to connect and meet friends
I used to take James to pre-school story time at our library. He loved listening to books about animals. And the children's librarian commented on the books he would choose – animals were always featured. She told James that her son loved the book Sam Who Never Forgets
, by Eve Rice. She showed us where it was and we checked it out. Over and over again, James would choose this book for me to read aloud. It became a nightly favorite for both of us because of its charm and simplicity. It was also the first book he learned to read on his own. And now it has a permanent place in our home library.
Storytime at the library is an event of the past. Now we visit the library for research and tutoring. From time to time, we run into our favorite librarian who always remembers James and his love of animals. Like Sam the zookeeper, she never forgets.
P.S. Four years ago, "Sam Who Never Forgets" was out of print and difficult to get. I found a soft cover copy at half.com. Now there appears to be a renewed interest. You can find the book Sam Who Never Forgets
at amazon among other places.
When was the last time you went to the library and what does it mean to you?
Connect with me on Facebook or Twitter. Leave a comment on my website or send me an email.
Read my review on Goodreads.com

Sam Who Never Forgets by Eve Rice
My rating: 5 of 5 stars
Sam the zookeeper is a hero at his zoo. As he makes his rounds everyday at 3 pm to feed the animals, young readers and listeners learn the names of the animals and what they like to eat. The animals are polite and always give Sam thanks. When Sam reaches the elephant, his cart is empty, which makes the elephant sad. Not too worry – Sam returns with exactly what his large friend needs.
This is a sweet tale to read aloud to pre-schoolers, especially ones who love animals. The lessons are important, simple, inspiring and encourage creative discussion. We practically wore out our library's copy, so we purchased one for ourselves four years ago. Occasionally, my son (nearly nine) picks it up to read and look at the colorful illustrations.