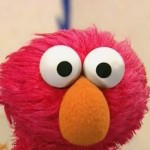 The web's a crazy, funny, interesting, intellectual, stimulating, attractive place. You "get on the web" to "Google" information about your school report that's due tomorrow. You discover how to unplug a toilet, what the experts say about the New York Giants, and Alec Baldwin's apology to himself on SNL Information is free and available 24/7, 365 days a year. It's not always 100% accurate, and there are things put on the Internet that are naughty, not nice.
The web's a funny place because we, the people are in charge.
My son James likes to watch funny videos on YouTube: talking cats and dogs are a big hit among his age group. Babies who slap each other cause an uncontrollable stream of giggles. He also likes to watch music videos and parodies of popular songs like the furry, red Muppet Elmo's take on LMFAO's "I'm sexy and I know it." It's called: "I'm Elmo and I know it" and has had over 5 million views on Sesame Street's YouTube channel. I admit the song is catchy, and I definitely prefer Elmo's lyrics of – I got Dorothy in a tank/and I ain't afraid to show it – over… well… you know the passion in my pants. (However, burned into my retina is LMFAO's RedFoo brandishing a metallic, animal print bikini that no man should wear. EVER. But I digress…)
Human beings built the web. We are the ones that post and share information, photos, and art. It's social. It's educational. It's beautiful. It's tasteless. It's never boring. People care or they don't, but the web never forgets.
So remember to put on a good face (or at least clothes).
What do you think? Connect with me on Facebook or Twitter. Leave a comment on my website or send me an email.