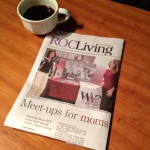 Working Moms ROC is the latest among varied support groups and meet-ups for moms combining personal development with social events.
"How do you do it all?" Is a question that frustrates many women. One of the most important lessons I've learned over the years is that successful people ask for help. Like many moms I struggle with perfection, setting limits, and making the right choices for myself and family. Talking with other women or asking questions of other moms has helped me navigate life's challenges. No one can do it all, nor should we expect them to.
Motherhood, work, and achieving balance in both – not to mention happiness – is hard. Erica Cummings of Victor has built a successful career in her role as a financial advisor at Morgan Stanley helping people plan their financial futures. After she became a mom, however, she felt like she was just getting by at work and at home. Friend and full-time working mom Kristen Dobranski, global connectivity at Xerox Corp., agreed. Despite having the support of their husbands, the pressures of keeping their professional and home lives in order weighed heavily.
You can read more about the latest support group for Rochester moms or view the PDF here.
But that's not all. Many Rochester moms groups connect women and offer support to fit a variety of lifestyles
Ever consider joining a moms club? I did, but my mom was nearby to lend a hand and I had my book club – women and moms like me whom I could turn to for advice on pregnancy, baby growth stages, parenting challenges, and life changes.
Women need a strong support network to turn to not only during the transition to motherhood, but also significant events that may occur in her life, like illness, divorce, a move, or career change. An online search reveals many moms groups in Rochester that fit a variety of lifestyles.
Since 2002, Meetup.com has made it convenient for moms to track down their interests by location and connect with other like-minded women. Whether you're a new mom, fun mom, mom of twins, deaf mom, stay-at-home-mom, digital mom, or step mom, you'll find more than 27 active groups to choose from. Some charge a small fee to cover the costs of running the group. If you don't see one that aligns with your needs, you can always create your own.
With 1.15 billion users, Facebook makes it easy and free for moms to share information online 24/7, post events, and connect with other moms. Some groups are private for sharing personal information with close friends and family, while others are open to just about anyone who wants to share their parenting knowledge and experience.
Due to space constraints, one group that I researched didn't make it into the Democrat and Chronicle article. So I'm highlighting it below, along with the other groups I researched.
Prego: Been there, am there, or will be there
Prego: Been there, am there, or will be there is a private Facebook group created by Meg Schober from Ithaca, NY over a year ago as a fun place for friends to share what to expect when pregnant. Krystina Sovie of Greece (and my adorable little cousin) is mom to 13 1/2 month-old Dillon and works part-time as a hair stylist. Invited by a friend to join the site, Sovie says, "Prego is a place where moms can go to ask questions, answer questions, swap stories, or just vent." As a new mom, Sovie admits that so much advice all at once can be overwhelming, but ultimately you have to "trust yourself." Word of the group has spread across the country and Prego has more than 1,900 moms posting updates by the minute. To join the group, you need to be invited by a friend on facebook.com.
Flower City Mamas
Flower City Mamas is a group for first-time moms with babies born in 2012. Organized by Monica Infante, co-founder of Beyond the Bump, the group aims to help new moms socialize with their little ones while exploring what Rochester has to offer. As a new mom, Infante felt alone without family nearby and thought it would be helpful to start a group exclusively for moms with babies going through the same developmental stages. "You need a support network," says Infante who is evolving group activities as the babies grow together over time. Visit Meetup.com/FlowerCityMamas/.
Holistic Moms Network
Holistic Moms Network is a non-profit with more than 120 chapters across the country that connects parents interested in holistic health and green living. Started in 2006, the Rochester chapter holds monthly meetings to bring parents together in an environment that respects and honors their lifestyle and parenting choices. One reason chapter co-leader Linda Guiberson got involved 3 years ago was to learn more about healthy living choices for her family. "I met like-minded parents who never passed judgment, nor laughed at any of my parenting questions no matter how crazy they were." Visit holisticmomsrochester.blogspot.com/.
Parenting Village
Parenting Village is a new community-based organization that supports, connects, and empowers parents. Founder Emily Horowitz, a Licensed Mental Health Counselor, saw the need to help first-time parents understand that the transition to parenthood can be difficult and challenging. "We don't have the ties to family based units like we used to," says Horowitz, who sees Parenting Village as a clearinghouse with something for everyone. Offerings will include parent groups, open play hours, seminars and classes, social events, online information and referrals to area programs, and counseling services. A group for parents of children 3 and under begins October 11. Visit ourparentingvillage.org/.
Plum Mom's Club
Sponsored by Plum Organics baby food, Plum Mom's Club is free to members of Fit4Mom Rochester (formerly Stroller Strides of Rochester), a stroller based fitness program for moms and their children. However, moms don't need to be a member of Fit4Mom to join the club, according to Meg Boller, club organizer. Boller discovered the group through Stroller Strides after moving from Buffalo to Rochester. "It's nice for moms new to the area to attend playdates and trade advice," says Boller who eventually bought the Fit4Mom Rochester franchise. Plum Mom's group holds weekly playgroups, monthly Moms Night Out, and special community events. Visit meetup.com/plum-moms-club-rochester/.
Rochester Moms In Motion
Rochester Moms In Motion, began in 2006 to help and support moms who want to learn to run, run or walk consistently, or train for races. As part of a national organization of teams for women, Moms in Motion combines fun, fitness, and philanthropy. According to Moms in Motion Pittsford Team Leader Bonnie Venton, you don't have to race, but goals help you stay committed. "One of the most amazing aspects of our group is the love and support we offer to one another to reach our athletic goals." In addition to Pittsford, there are groups in Canandaigua and Webster. Visit facebook.com/ROCMomsInMotion.
The Rochester Playgroup
The Rochester Playgroup is all about fun, says co-organizer Tina Colabufo Byrnes of Penfield who discovered the group 6 years ago on meetup.com. Byrnes says she felt isolated after moving to Rochester from Syracuse and was looking for a way to get to know other moms. "The group proved to be the best resource for me," says Byrnes. A core of 20 moms with children under 5 actively participate in several weekly events designed to fit busy schedules. Although the group states it's closed to new members, Byrnes invites interested women to email her by visiting meetup.com/therochesterplaygroup.