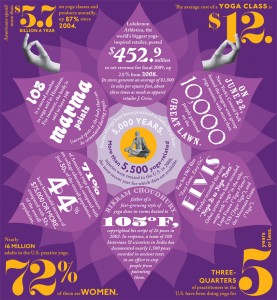 September is national yoga month. (I often wonder who comes up with this stuff. Marketers? Never mind.) Fast Company magazine has an infographic with some interesting facts and stats on yoga.
A little-less than three-quarters of the American population who practice yoga are women.
Yoginis contribute roughly $5+ billion annually to yoga classes and products.
As spending divas, we have made Lululemon Athletica, the world's biggest yoga-inspired retailer.
Interesting insight: if yoga improves our strength and flexibility;  encourages mindfulness, and teaches us not to harm ourselves (or others), why are we so klutzy doing yoga? There are reports of more than 5,500 yoga-related injuries treated in the U.S. in 2008. (I may have contributed to that stat.)
Why do I practice yoga?
Yoga makes me feel good. It makes me stronger, more open, mindful, flexible, humble, reflective and peaceful.  After doing it, I feel at ease with myself. I'm calm and have a sense of purpose.
Now, I just need to channel that sense of purpose and: avoid injury, shop and do something that matters. Om!
What do you think? Leave a comment or Send me an email!