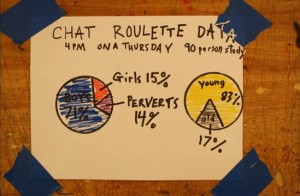 Do you know what your kid is doing on the Internet? If it's ChatRoulette, I'm warning you now: it's creepy.
The new rage on the Internet, a friend told me, is some video roulette thing that her teens discovered, where you interact with random strangers through a live video cam. ChatRoulette draws thousands of users every day. The catch is, you never know what someone is going to do on their end like sing, dance, wave a knife, or pull down their pants. That's why it's called roulette.
Made by a kid
A 17 year-old Russian high school student Andrey Ternovskiy created ChatRoulette mainly for his friends so they could to link random strangers who want to video chat with somebody. In a video interview with Russian Times (RT), young Andrey describes it as an out-of-this world experience where people have no idea who or what they'll see. It's definitely not a dating service, but a game. A no control game.
Like all things social, irreverent, digital and potentially addictive, ChatRoulette could become the next wildly successful platform on the web, or a dud. It's hard to pin it down, exactly.  Intrigued, yet dubious, I decided to check it out.
The ChatRoulette experiment
It helps if you have a video camera like iSight, so people see you and you see them via live video streaming. I landed on the site before eight one morning. You don't need a password, just click a button and you're in a video chat room with a random person. Stay and chat with live video (sound) or text, or leave and go to the next person. Out of 17,508 users online around the world, the second thing I see is a penis. (It's a good thing my office door was closed to curious eyes.)
The policy on the site states:  "Chat roulette does not tolerate broadcasting obscene, offending, pornographic material and we will have to block users who violate these rules from using our service." However, the creator explains that there is no permanent ban on violators, just a temporary block. After all, people love to take risks, violate rules and see reactions.
You can't control what people do on their video cams, but you can click next and try again – such is the game of roulette. During my "game," I saw several middle-aged men sitting in bedrooms and college kids in dorm rooms. I chose not to engage and skipped around from stranger to stranger. It was weird to be a voyeur from my home. What if I witnessed something really frightening and not some middle-aged dork? The site is anonymous so I had no idea who or where these people are from. And even if I did strike up a conversation, they don't have to tell me the truth. Does this sound familiar?
Young Andrey thinks its cool that his simple concept can be useful to so many people. He believes it gives people a chance to stumble upon those whom they would never encounter in their normal lives.  "Although," he states in this blog by NY Times writer Brad Stone, "some people are using the site in not very nice ways – I am really against it. Others do really unbelievable things I could never think of. They make up songs about strangers and sing to them, draw them, listen to music, broadcast them their own music. Two groups of teenagers can party together. That's just great in my opinion. I am glad that I made this project and it is a pleasure for me to work on it."
Cool or freaky?
ChatRoulette is definitely not something I want my child to experience on purpose or accidentally. For adults, the experience can be interesting and rewarding, a place where you can chat with engaging people from anywhere on the planet. However, anything can happen on ChatRoulette. Be aware that this kind of "no control game" attracts creeps, encourages deviant behavior and may be addictive. For now, I think I'll stick to my friends on Facebook.
What do you think?
P.S. In the time it took to write this, the ChatRoulette site swelled to more than 21,000 users sitting around waiting for someone to video chat with.