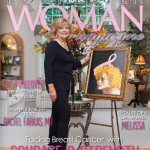 October is Breast Cancer Awareness month and Rochester Woman Magazine marks it with a special 'pink' issue, featuring my mom Linda Argento on the cover. My mom is a breast cancer survivor and I'm honored to have written her story for Rochester Woman Magazine. I hope it gives other women facing breast cancer courage and strength. To follow is the introduction. Click on the links below to read the full story online.
Women are defined by their breasts.
We shouldn't be, but we are. From the time we're young girls, we stuff our training bras with socks to see what we might look like as women. We start to bud and boys start to notice. We wear clothes to make our breasts stand out – or maybe not stand out too much. Boys label our breasts – cantaloupes or cherries. Our breasts become tools of attraction, but they're also functional. We feed our children with our breasts. When our breasts begin to sag, we think back to our youthful perky breasts. Maybe a lift isn't such a bad idea after all.
But what about getting breast cancer?
More than pink ribbons and charity walks, breast cancer is a disease that will disfigure a woman's body and potentially rob her of her breasts. How does a woman diagnosed with breast cancer – someone you love – handle that news? According to the latest statistics from the American Cancer Society, 108 women die of breast cancer every day. Although breast cancer isn't always a death sentence, a certain mystery surrounds it. There are treatment options and opinions about preventing breast cancer, but no cure has been found. Not until breast cancer is experienced firsthand do we know how it will test a woman's strength. Facing breast cancer is a personal journey with one goal: to live.
This is a story about my mom, Conchita Linda Santiago Argento, who was diagnosed with breast cancer.
Click this link to read the rest of the story. 
Now defunct, Rochester Woman Magazine has back issues available on issuu. Click this link to read the complete interactive issue.
Thanks for reading. If you like this post, please consider recommending it on Facebook, posting a comment on Facebook, or sharing it on your social networks. Feel free to share it with your friends or send me a comment. You can also post a comment on my blog or Facebook. P.S. Don't forget to check out my recent blog post over at the moms blog at thedemocratandchronicle.com.